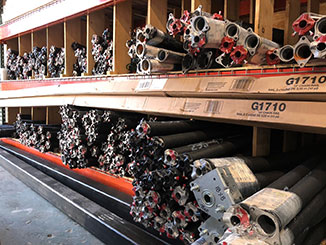 /broken-garage-door-spring-replacementWhether you are planning to have a new garage door installed or you just want to take better care of your existing system, you will benefit a lot from learning more about the two main types of springs these mechanisms use. We'll explain how they work and how they compare in terms of performance and durability, in order to give you a clear idea of what kind of maintenance they require.
How Extension Springs Work
These devices are installed in a pair. Each unit is installed above the horizontal track, connected to the door via a set of pulleys and a lift cable. When the door is closed, the springs stretch and hold an amount of force equal to the panels' weight. During the opening process, they contract and release the force they've stored, applying it to the cables, which in turn lift the door.
How Long Will They Last?
Extension springs have a lifespan of 5,000 cycles on average. This means that these hardware parts are expected to open and close the door roughly five thousand times before they break, which is significantly lower than their torsion-based counterparts. They don't require any kind of maintenance other than regular inspections. They will eventually become deformed due to extensive use, which is when replacing them will be required. Otherwise, the springs will break. This usually happens without much warning signs. The broken pieces are held in place by the safety cables which run through these extension units to prevent them from whipping around when they break. You must not try to perform the required spring replacement by yourself, as the results can be catastrophic.
What Torsion Springs Offer
Usually, units of this type are mounted at the center of a metal shaft sitting above the garage door. Oftentimes just a single unit is enough, as they are more durable and flexible than their extension-based counterparts. The force which the torsion spring holds is used to lift the door via a system of cable drums, which are installed at the two ends of the shaft. Some of the garage door brands we have here in Connecticut offer spring systems that are slightly different than the classic design, but their main principle of operation is the same.
Torsion Spring Longevity
The average life of torsion springs is 10,000 cycles, although some manufacturers offer ones with an estimated lifespan of 15,000 and even 20,000 cycles. This takes into account regular lubrication maintenance, which is required in order for these units to work smoothly and quietly for a long time. The risk of coil deformation is minimal with this type of upkeep. They may start to squeak when their condition begins to deteriorate, so it's important that you don't neglect these devices. Although they are safer, and less likely to go flying when they break, timely torsion spring replacement is very important.