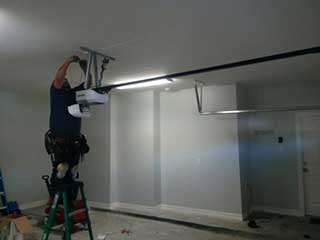 While no garage door opener can operate in absolute can-hear-a-needle-drop perfect silence, it can get pretty close. An excessively noisy system can be incredibly annoying, especially if you have an attached garage. The good news is that if your system sounds like a freight-train throwing a tantrum every time you use it, there are things that can be done to remedy that.
There Could Be a Problem
Some types of garage door opener models are noisier than others, due to the fact that they use an AC motor and/or a chain drive unit. However, an overly noisy system can often point to greater underlying problems, which, if left untreated, can inevitably result in a breakdown. If you started noticing that your automatic garage door is getting louder and noisier than it used to, you need to have an expert take a look at it.
Some Potential Causes
While certain types, like the chain drive opener, are naturally noisier than their counterparts, excessive levels of it can point to problems with the motor itself or with some other part of the system. If your opener is louder than usual (and you are certain it has nothing to do with the type you have) then it may need some lubrication maintenance, or to have its motor inspected. This could also be the result of an imbalance caused by a damaged spring, or simply from a bent garage door track that is restricting the movement of the door, and thus forcing the opener to overstrain.
Every System Needs Work
Professional opener repair service may not necessarily be needed if a little maintenance on your part can do the trick. You can try to lubricate your opener's chain (if it has one) as well as your torsion springs and steel rollers, which are both known causes of garage door noises. If the problem persists after you've done that, seek professional assistance.
Let The Experts Handle It
If you can't seem to spot the problem yourself, then our team can help you, especially if it's been a long time since your door underwent any maintenance. If there are any latent problems that are difficult to spot, continually operating your system while they remain unaddressed could lead to further damages to various hardware parts, meaning you'll end up needing to spend more money than expected on opener repair. Be sure to give our experts at Garage Door Repair Norwalk a call at the first sign of trouble.