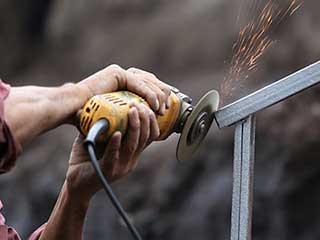 If you're passionate about your privacy or if you would just like to keep your home or property safe from intruders, then it would be a good idea to have a gate system installed. This can help you protect both your privacy and security. These metal or wooden barriers are built to be very tough and durable, but they occasionally do need some maintenance and repairs to make them stay functional.
When Wood Fails
A typical residential gate is often made out of wood or a form of metal such as wrought iron. These are the two most popular materials used. If your system is made of wood, then you have an entirely different set of problems concerning your hinges than those who have a metal one. Wooden gate doors and posts will sometimes fall prey to the ravages of the external environment. They may soak up moisture or fungal spores. When any of these happen, the integrity of the wood will fail, so the screws that keep the hinges in place will become easier to pull out, and may even succumb to the weight of the gate and break off. Our team can help you with this type of problem. We can replace rotten wooden parts and put in newer hinges that will last a lot longer.
The Weakness of Metal
Metal is generally considered a very durable material, and for the most part, it is. Only when it is attacked by rust does it become particularly weak. If this happens to the welds on the hinges or to the metal post that they are attached to, it's going to significantly weaken the structure. Even when there is no rust, but the welding technique that was used is sub-par, the hinges may still fall off due to the stresses of the weight of the heavy metal gate frame. If you experience any of these problems, our gate repair service can help you.
An Opener Isn't Just For Garages
The true value of an automatic gate opener is only realized when the device is actually able to operate the system properly. Unlike their garage-dwelling counterparts, they are constantly exposed to the elements, which can, despite their durability, make them prone to breakdowns and more consistent wear and tear. Motor gears can wear out or break, and even the electrical components, such as the circuit board or the safety sensors, can start to malfunction. Luckily, our team can fix all of those issues, as well as many other ones.
Give Us a Call
If some part of your gate is no longer functioning as well as it used to, call our experts at Garage Door Repair Norwalk and we'll see to it that the system quickly returns to its functional condition.
But wait, there's more! We also offer:

Program Doorking Intercom

Sliding Gate Chain Replacement

Gate Exit Sensor Installation

Driveway Gate Troubleshooting