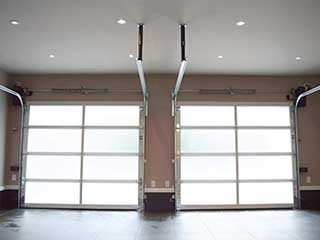 Emergency Broken Spring Replacement
Urgency plays a huge factor when dealing with a garage door spring that broke. This part is a major component of the entire mechanism. A garage door with broken springs will have trouble lifting. While not impossible, it will put extra strain on the opener and lift cables, which is bad news going forward. Therefore, replacing broken garage door springs as soon as possible becomes a priority. But speed isn't all that's important. You need it to get done right too. Mishandling garage door springs, broken or not, can prove more than dangerous. Because of that, it's a good idea to let experts, preferably local for convenience purposes, take care of it. Garage Door Repair Norwalk technicians can help you with broken springs all week long. Whenever you face such a problem, you can always get affordable solutions from us.
Why Garage Door Springs Break
To put it simply – wear and tear. The repetitive tension applied to these parts is the main reason they end up breaking after a certain amount of time. Now, the type and quality of the garage door spring will affect how long it lasts. But you can just put any type of spring on your Norwalk garage door. You need the coils and length to match the dimensions of the panels. The heavier they get, the stronger the spring you will need to support and counterbalance the weight. Even garage door springs of the highest quality will end up breaking eventually. Therefore, it's a good idea to give them an inspection every year or so, to see the conditions of the coils. Getting garage door springs replaced before they break will help you avoid unexpected problems that can make your day grind to a halt.
Your garage door springs are possibly the most important parts of the entire system. Unfortunately, they are also the most dangerous ones too. Arming yourself with just a little bit of knowledge can help you take the proper precautions and ensure that these components aren't putting you or your family members at risk. Because of the amount of daily stress they are under, these units are subject to damages in the form of wear and tear or even rust or corrosion from harsh weather conditions.
The Different Kinds
There are typically two different variations of springs that fit different types of garage doors. They are not interchangeable, as they work very differently, and may not be suitable for the types of doors that their counterparts would be.
Overhead Extension Door Springs
These units are usually installed on each side of the door, parallel to the horizontal tracks. They counterbalance the panels by stretching when the door closes and then contracting when it needs to open back up. Extension springs are generally attached to safety cables which serve as anchoring points that keep them from whipping around when they break. They are the older of the two types and therefore tend to be weaker than their newer counterparts.
Torsion Coil Springs
These units resemble the type of springs found in trampolines. They are wound in a cylindrical way and are able to store tension and help support and lift heavier doors by using torque. Because they are more durable and flexible, sometimes only a single unit is all that's needed. These units can be found above the door, along with a shaft that's connected to cable drums on each side. Oil tempered coil springs (which is a variation of the standard type) are perfect for very heavy doors since they have a greater structural integrity, and they don't require lubrication due to the fact that they've been tempered with oil.
Possible Dangers To Watch Out For
Garage door springs are under an enormous amount of pressure constantly, even when the door is not being used. This means that it is always a matter of time before they start to show signs of stress and break down. When you start noticing tiny fractures or deformations of their coils, you need to get the springs replaced quickly. Harsh weather conditions, particularly in damp and humid areas, are not great for their sustainability. They can cause corrosion or rust to form over time, and as a result, they will not be able to provide an adequate amount of support before failing. Regular lubrication will help alleviate some of the stress they are under, but it won't get rid of rust.
Replacement Done Right
While we all like to do a little DIY from time to time, it is not really recommended when it comes to spring replacement. This is because there is more at stake than just getting the job done wrong. Considering the amount of pressure stored in their coils, springs can suddenly break and release that pressure when they are being mishandled. When this happens they can go flying, possibly causing serious injuries or damages to nearby property. To avoid the risks, let our technicians at Garage Door Repair Norwalk take care of these crucial yet dangerous components.
Garage Door Springs Repaired By Nearest Norwalk Technicians
Although a broken spring can happen when you least expect it, the world won't end right then and there. Not with a quick service provider available to install a new spring on your garage door. Whether torsion or extension-type, when you need broken springs replaced, you've got our local garage door repairmen to turn to for immediate help. Contact the spring replacement specialists at Garage Door Repair Norwalk anytime for quick and cheap services provided every day of the week.
We also take care of:

Garage Door Tune Up Services

Opener Sensor Replacement

Commercial Garage Door Repair

Garage Door Transmitter Repair