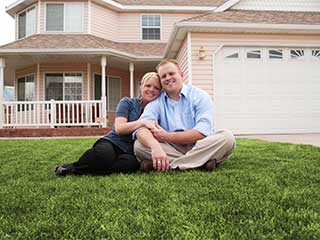 This time of year is your chance to be innovative and original. Your garage door is just waiting for you to transform it into a romantic centerpiece, and you can make it happen in various ways. Lights, ribbons, and murals all require time and creativity, scaled according to your own ambition, but they will all yield beautiful end results. Here are some lovely tips for those romantic at heart.
Lights, Lights, and More Lights
Fairy lights and LEDs look romantic on their own with the characteristic halo of that surrounds each one of them, and they can be combined to create creative patterns such as hearts and flowers. Writing with lightbulbs takes a bit more planning and effort, but is definitely possible and allows you to wish everyone who walks past your home a happy Valentine's. Use different colors and consider flashing bulbs for added effect.
Keep This In Mind
The cords associated with setting up lights can get tricky. Make sure that they can reach their power source without disturbing your door hinges, opener sensors or other crucial parts. Tangled wires are a real mess, and they can be dangerous too. Check that your setup allows the door to open and close seamlessly and smoothly as you go along, and make adjustments as needed.
Romantic Ribbons and Patterns
Similar to lights, but more self-contained, ribbons can be arranged to form shapes and even specific text. You will not have to worry about cords getting in the way of the door, but the ribbons may disturb the automatic opener when the door is used. Take a close look at how your device opens, and attach your ribbons in a way that won't get tangled up or cause a malfunction.
A Mural for the Artistic
A mural is as flat and non-obstructing as it gets, and won't get in the way of the moving mechanical parts. If you are artistically inclined, you can paint a mural onto your door yourself. It is a big undertaking and should be planned properly, and the paint used should be selected specifically for the material of your panels. Be aware, though, that as the door moves the paint may start to crack. Some types of paint are can better withstand this, and they will be more suited for this purpose.
A Wide Range Of Options
Your choice of decoration style for your door depends on how it opens, how its moving parts are situated, and your willingness to invest time and planning into it. Both lights and ribbons can be easily arranged in any pattern you would like, including letters. Be mindful of the positioning of cords and ribbons, though, as they may otherwise get tangled up or stuck in the system's moving parts. If during your preparations you come across some type of problem with your door, don't hesitate to reach out to our team for emergency repairs.