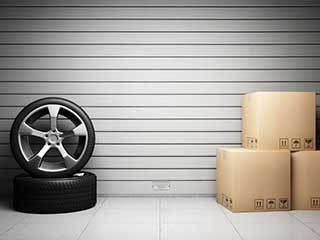 While your door is probably built to last (provided that it's made by a name brand manufacturer) there are some issues that can be unavoidable. However, with the right maintenance routine, a lot of those problems can be mitigated and even completely eliminated.
Problems With The Hardware Parts
Every time your door opens or closes, its hardware components are put under stress. The accumulation of this type of wear and tear will cause some parts to break down over time, or to develop some faults that will cause the door to struggle to move. Bent tracks and worn rollers can prevent you from using your system, which is why it's important to check for those issues and to remedy them early on. Our technicians will make sure your garage door tracks are properly aligned and free from dents and debris, and we'll lubricate the steel rollers to keep their movement smooth and efficient.
Avoiding a Broken Spring
The components that bear the majority of the weight of your garage door panels won't last forever. Both your springs and cables will gradually weaken until they eventually snap or break, at which point the door itself could slam down, and trying to open it back up will be impossible until the part in question was replaced. The problems don't end there, though. When a spring breaks it can go flying, which can lead to very serious injuries. To avoid this, our team will check the cables for fraying and test the spring tension and adjust it. This will also help keep the door balanced and even.
Last But Not Least – Safety
Your automatic opener uses photo eye sensors to make sure it doesn't close the door while you or your car are in its way. If these units become misaligned, however, they will fail to detect an obstacle, and the door may try and close anyway. To prevent this type of scenario, our experts will check the sensor alignment and the condition of their lenses, and adjust or replace them accordingly. This will help make sure your system remains safe for use.
Give Us a Call
Our team at Garage Door Repair Norwalk is always here when you need us. To schedule a maintenance visit, simply contact us via phone or use our online system to book an appointment.
Need more? We also provide:

Oil Tempered Torsion Springs

Garage Door Safety Inspections

Overhead Door Installation

Garage Door Weather Stripping